How to Clean Leather Car Seats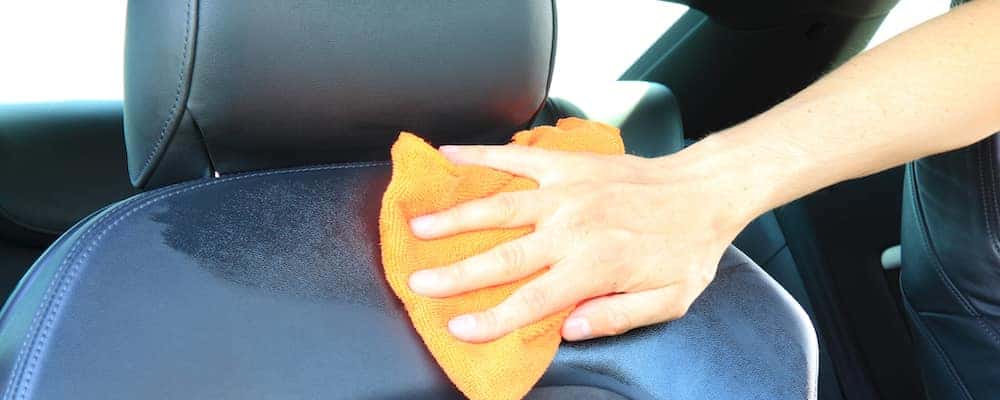 Opting for leather upholstery in a new vehicle instantly upgrades your Pekin drives with a luxurious feel and look. To keep your leather interior looking good and top condition, proper care is important–check out our leather seat care guide at BMW of Peoria, use BMW car care products, and contact us if you have any questions! We are more than happy to share how to clean leather car seats properly so your vehicle remains in pristine condition as long as possible. Below, we have provided information on how to clean leather car seats in addition to what to use to clean leather car seats.
What Leather-Cleaning Products Should I Use?
You may be asking, "Can I clean leather seats with soap and water?" A colorless, clean cloth or microfiber cloth slightly damp with water is ideal to gently wipe down and clean your leather seats. If a more thorough cleaning is needed, apply warm water and mild soap or specially-made leather cleaner to the cloth, or use a soft-bristled upholstery brush. Be sure to consult your owner's manual for recommendations on your specific model. It is important to know which BMW leather cleaner to use on your luxury sedan or SUV.
What Products Should Be Avoided When Cleaning Leather?
When learning how to clean leather seats, one of the most important facts to know is what BMW leather cleaner products to avoid so that you do not damage the upholstery.
Sharp or abrasive tools that can scratch the leather surface
Household cleaner and detergents
Dark cloths or rags
Furniture polish
How Do You Keep Leather Seats in Good Condition?
You may have additional questions about how to take care of leather seats. The tips below can help.
Vacuum Your Seats: Gently vacuum the surfaces and crevices of your seats to remove any dust, dirt, and debris.
Clean Your Seats: Use a pH-neutral cleaning solution with a microfiber cloth and soft-bristled brush to gently clean the leather upholstery. If you have perforated leather seats, make sure the cloth is only slightly damp, to avoid excess water getting into the seats.
Condition Your Seats: With a new microfiber towel, you can rub a leather conditioner into the seats.
Protect the Leather: To protect the leather, keep your vehicle out of the sun around the Dunlap area by parking under a tree or in a garage. To avoid wear and tear, take sharp objects like keys out of your back pockets before sitting down, and set any cargo that may scratch the seats down on the floor.
Rely on BMW of Peoria for Your Service Needs
If you have any more questions about leather care, how to get stains out of leather seats, or want to give your BMW vehicle the star treatment, contact the service department at BMW of Peoria near Galesburg. We can also tell you more about the best leather upholstery cleaner for cars. We want to get your vehicle in top condition before you head out for a day of activities in Peoria or spruced up for date night.
Learn More at BMW of Peoria
Hello Peoria! It's that time of the year again. As the Land of Lincoln bathes in glorious sunshine, it's the perfect backdrop for those scenic drives along the Illinois River in your BMW. But before you set off on those leisurely summer drives, have you thought about preparing your ride for the season? If that…

Immerse yourself in the world of impeccable design, unparalleled performance, and cutting-edge technology with the all-new BMW XM. This state-of-the-art automobile stands at the pinnacle of luxury, with features that redefine comfort and safety. Here are eleven reasons why the BMW XM is the obvious choice for your next vehicle purchase. 1. Awe-Inspiring Performance The…

The 2024 BMW X5 and X6 redesigns are a fresh take on two of BMW's most iconic SUVs. These new models offer a variety of new features and improvements that are sure to impress even the most discerning drivers. In this article, we'll take a closer look at the 2024 BMW X5 and X6 redesigns,…